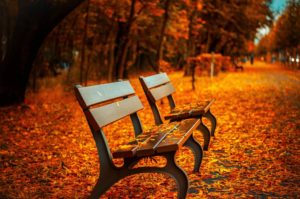 In a conversation with my mother-in-law this evening we laughed about how sometimes it feels like you can't even safely go into the backyard (for those who have a backyard). It's like the mind subconsciously views the entire "outside" as potentially dangerous.
We laughed about it because her "backyard" is about a quarter acre, with people nowhere nearby. It was evident that her fear was perceived and not actual. And yet I can relate, and I think so many of us can. I remember at the start of the pandemic recognizing that fear of "outside" - as if the air itself was poisoned with the virus. And I had to remind myself that it wasn't. Still sometimes I find that unconscious fear resurfacing when I'm outside or in my nearby park, even when there is nobody around.
It's the job of the brain to keep the body alive. Not happy. Alive. And so it looks for danger around every corner. And when the threat is microscopic, it seems the mind searches for it everywhere. We have to get clear on where the threat is actual, and where it is perceived and sometimes those lines are blurry. But living in a constant state of threat response isn't sustainable. It can damage our health and leave us even more susceptible to the very threat we are trying to avoid.
Of course also be careful and aware. Wear a mask, use hand sanitizer, wash your hands, keep physical distance. But also look for moments of safety, and opportunities to settle where you can, even if they're fleeting.
After you wash your hands for 20 seconds, take a moment to feel the cleanliness of your hands. If your home is a safe place to be, pay attention to that and notice how your body responds to that acknowledgment - what is the experience of safety? If you're healthy right now, notice & allow that to be true. Feel your good health in your breath and your vitality.
Moments of risk and moments of safety are likely all happening in the same day. Your mind is going to be orienting toward threat, it's up to you to notice when you're safe too.